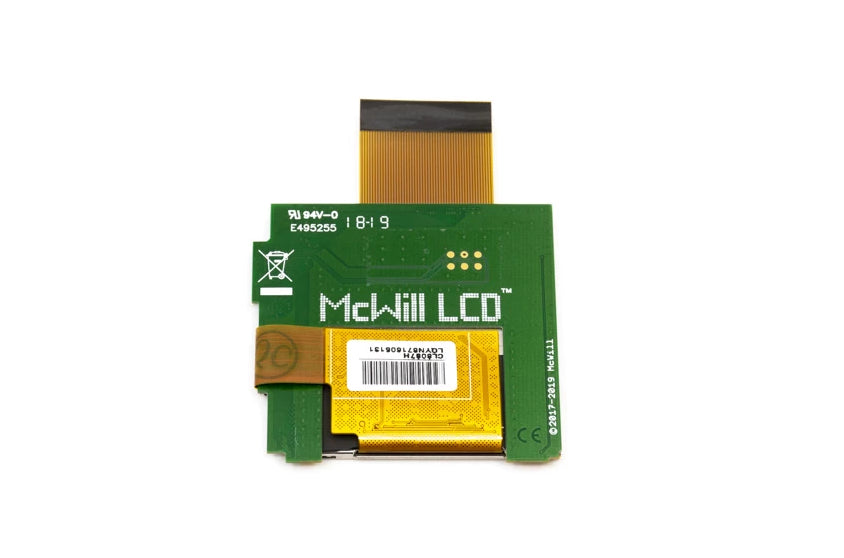 McWill's LCD Upgrade for Game Boy Color
Discontinued
Original price
$77.99 USD
-
Original price
$77.99 USD
After bringing high-quality backlight kits to the GameGear and the Atari Lynx, McWill returns with a backlight for the Game Boy Color. This true plug-and-play drop-in kit will dramatically improve the brightness, color, and contrast of the GBC so you can enjoy your favorite retro games like never before. No soldering necessary!
Looking for a lens for your new drop-in kit? Custom glass lenses sized specifically for the kit's display size are now available!
Features
True drop-in solution

—no soldering necessary

All-in-one PCB solution
2:1 integer scale of the GBC's native resolution
Same aspect ratio as the original GBC screen
No flickering or screen tearing
LCD and PCB come pre-attached for easy installation
Documentation
Installation tutorial coming in August
Included
1 x Game Boy Color LCD upgrade (LCD + PCB)
Notes
We're selling the solder-free version 1.1.
Each kit is tested before shipping
If batteries are low when attempting to turn on the Game Boy Color after performing the mod, the LCD may not power on with the first try. You may need to turn the GBC on and off 2-3 times before starting to play. This phenomenon can be avoided by using fresh batteries, keeping charged batteries in the console, or pairing this product with the McWill USB charging kit.
Warning
We strongly recommend testing the display before installing it in your console. Please follow our

 

Display

 

Testing

 

Guide to confirm the kit is working before the adhesive is secured, the display protection sheet removed, or

 

any non-critical soldering

 

to the ribbon or driver PCB.

 

We are unable to accept returns or replacements on kits that have been installed in a console.

 

Individual replacement parts may be available in the "Included" section above.

The ribbon is very fragile, be sure to handle it carefully to avoid damage.

Too much pressure can permanently damage the display, do not force the shell closed around the LCD. Ensure the shell is properly trimmed for the display before attempting to install it.