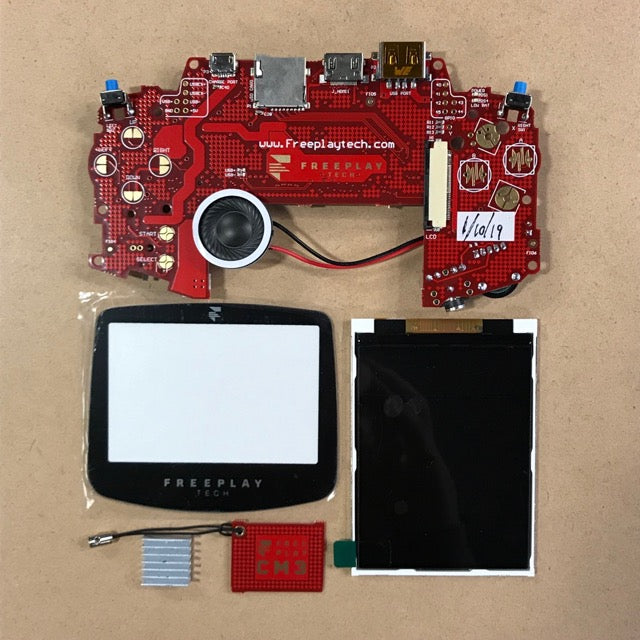 Freeplay CM3 Base Kit
Sold out
Original price
$204.74 USD
-
Original price
$204.74 USD
$204.74 USD
-
$204.74 USD
Current price
$204.74 USD
We have a convenient DIY Project Builder for this product. Please check it out to make sure you get all the parts you need for the full build. 
The Freeplay CM3 is a handheld video game console that combines the power of a Raspberry Pi Compute Module 3+ with the classic form factor of the Game Boy Advance. The project, initially known as the Game Pie Advance, used a Raspberry Pi Zero as processing unit until a (successful) Kickstarter campaign introduced the CM3. The Freeplay Zero is still available. 
The Freeplay CM3 is inspired by and runs RetroPie, which is built on top of Raspbian, EmulationStation, and RetroArch. With this kit, you can build a next-generation retro video game console that looks like your favorite classic handheld.
This product is intended to be an empowering do-it-yourself (DIY) project. Please familiarize yourself with the project's requirements before purchasing. For hardware specifics, please check out the original Kickstarter.
Want a Freeplay CM3 without building it yourself? Check out our build to order service. Please note that some configuration will still be required. 
Please read the entire product description carefully before placing your order. 
Documentation
Included
1 x Freeplay CM3 circuit board with built-in brightness controller
1 x Raspberry Pi Compute Module 3+ (CM3)
1 x 3.2" TFT LCD
4 x Soft rubber feel buttons
1 x Heatsink
1 x 2000 mAh LiPo battery
1 x Freeplay CM3 keychain charm
Notes
We depend on Freeplaytech for this product. Please subscribe to Freeplaytech newsletter to receive continuous production updates
As of 2019, the circuit board now comes with the

 

backlight brightness controller

 

built-in and includes additional options for how you can implement the X/Y buttons
For more information on the different X and Y button configurations, please watch Freeplay tech's

 

button option video included at the end of this product description
You'll need to supply several accessories to successfully assemble a working Freeplay CM3 using this kit. If you're not sure which components are required for the full build, please see our convenient DIY Project Builder
Freeplaytech glass lens sold separately
For customers living in the United States, due to restrictions imposed by USPS surrounding the transportation of LiPo batteries, this product can only be shipped to you via ground transportation, which may extend the time it takes for you to receive your order 
Please note that batteries are prohibited from being shipped into Germany. German customers who have placed orders for this kit

 

will be contacted for a refund. Unfortunately, this situation is out of our control. We're sorry for any inconvenience this may cause
Retro Modding is not responsible for how you choose to use this device