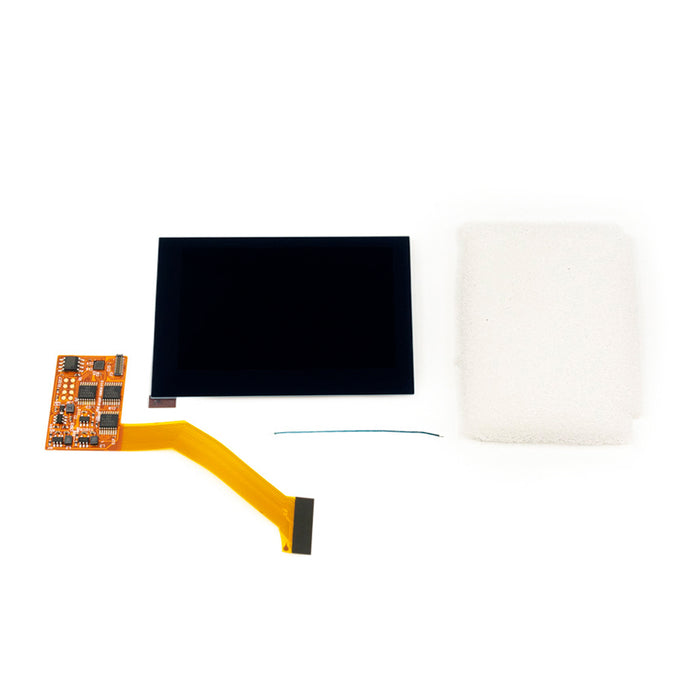 IPS LCD for Game Boy Advance SP
Discontinued
Original price
$61.99 USD
-
Original price
$61.99 USD
The display you've come to love on your Game Boy Advance is now available on the SP! Enjoy your favorite GBA titles with this startlingly crisp and impressively vibrant Laminated backlit IPS LCD display by Funny Playing. These logo free full black and full white kits are available exclusively here! 

Please read the product description carefully and in its entirety before purchasing. 
Features
Suitable for AGS-101 and AGS-001 models
Backlit IPS LCD brighter than AGS-101 or NDSL displays
Crisper image than the AGS-101
Proportional image
Fast refresh rate with no blur
Wide viewing angle
Easy, solder-free installation with little trimming involved
Brightness control button requires soldering one wire
Supports the software-based sleep mode built into select games
Included
Documentation
Notes
We strongly recommend you follow the tutorial linked in the Documentation section, and use one of our professionally trimmed SP shells, to minimize the risk of damage during the installation.
Note that the LCD comes with a pre-attached lens; we do not recommend attempting to remove this lens, as it is adhered directly to the LCD
Warning
We strongly recommend testing the display before installing it in your Game Boy Advance. Please follow our

 

Display

 

Testing

 

Guide to confirm the kit is working before the adhesive is secured, the display protection sheet removed, or

 

any non-critical soldering

 

to the ribbon or driver PCB.

 

We are unable to accept returns or replacements on kits that have been installed in a console.

 

Individual replacement parts may be available in the "Included" section above.

The ribbon is very fragile, be sure to handle it carefully to avoid damage.

Too much pressure can permanently damage the display, do not force the shell closed around the LCD. Ensure the shell is properly trimmed for the display before attempting to install it.
---
Change Log
2020-06-16: Product page created.