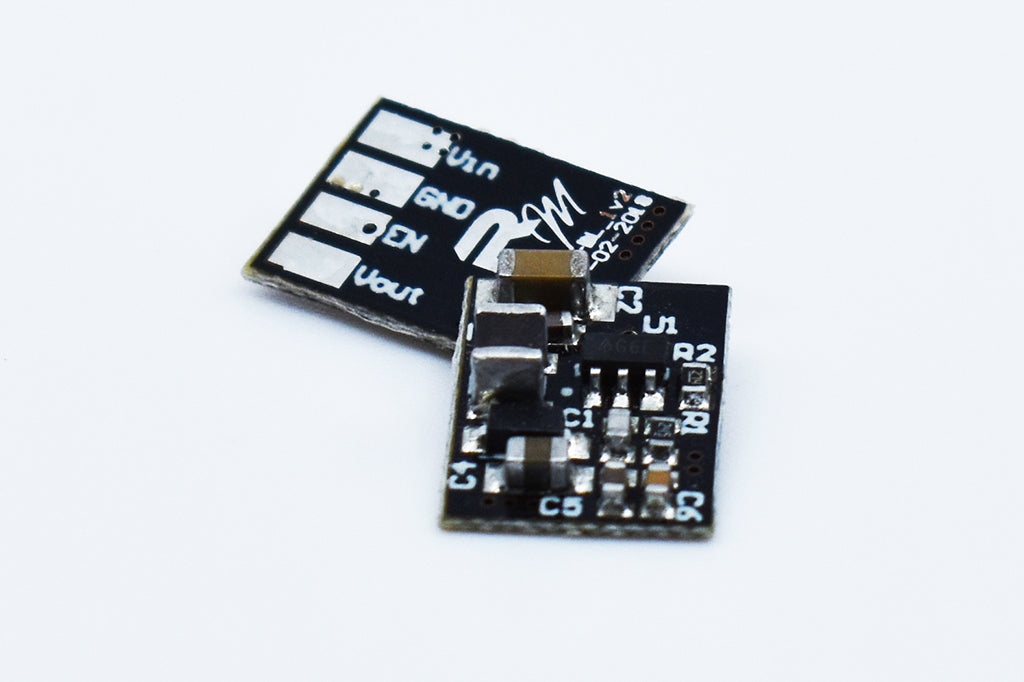 AGS-101 Voltage Regulator for Game Boy Advance
Original price
$13.64 USD
-
Original price
$21.79 USD
Our in-house voltage regulator is now available for your custom modding projects. 
On its own, the Game Boy Advance doesn't feed the AGS-101 enough power, meaning it's not as bright as a backlit GBA SP. Our in-house VR provides the appropriate voltage and current to produce a clear backlit image. It's so bright you can even play in the full sun! With greater stability and a compact size, it's never been easier to mod your Game Boy Advance.
For more control, upgrade to our VRV2, which combines our voltage regulator with our in-house brightness controller.
Features
Dramatically improves the brightness of the AGS-101 LCD by supplying the appropriate output voltage of 12.2V
Operating voltage between 1.7V and 3.2V (meaning no flickering with low batteries)
Supports software-based sleep mode included in select games (Super Mario Bros. 3, Zelda, etc.) through low-power mode
Smaller footprint than similar boards (9.2mm x 13mm)
Simple four-wire installation
Pre-wired board includes wires of the appropriate length already soldered to the board, as well as heat shrink tube and mounting tape already installed
Specs
Dimensions: 9.2 mm x 13 mm x 3.2 mm
Input Voltage: 1.7 to 3.2 V
Output Voltage: 12.16 V
Termination: Solder pads
Weight: 0.35 grams
Switching Technology: Step-up DC-DC converter
Max Switching Current: 350 mA
Max Operating Temperature: 85°C
Number of Wires for Installation: 4
Included
Board Only
1 x Retro Modding's AGS-101 Voltage Regulator
Board + Simple Install Kit
1 x 

Retro Modding's 

AGS-101 Voltage Regulator
1 x Shrink tube
1 x Wiring kit
Pre-Wired Board

1 x 

Retro Modding's 

AGS-101 Voltage Regulator with pre-soldered wires
Notes
This is an in-house product. For troubleshooting or support queries, please reach out to us directly on 

Facebook

 

or by email at 

support@retromodding.com
Intended for use in Game Boy Advance AGS-101 mods