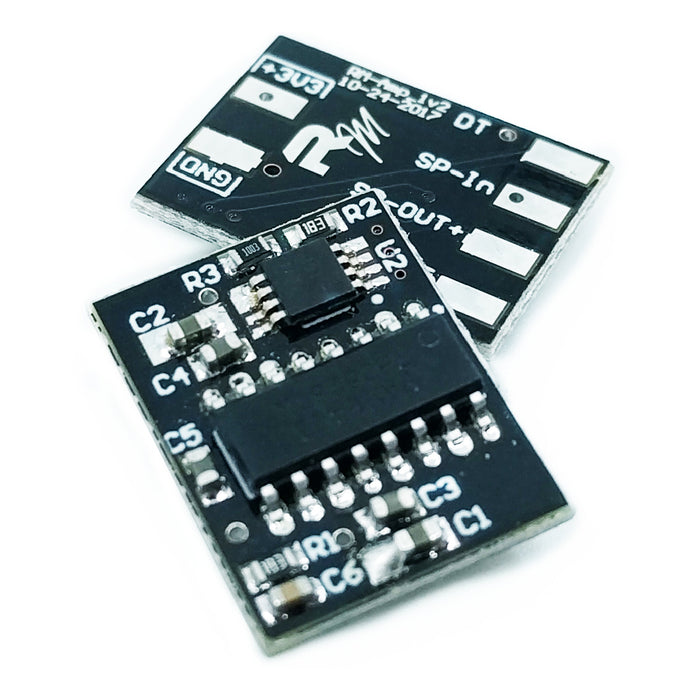 Audio Amplifier for Game Boy Advance
Sold out
Original price
$26.24 USD
Original price
$26.24 USD
-
Original price
$31.49 USD
Original price
$26.24 USD
This Hi-Fi, Class-D amplifier module for the Game Boy Advance was created to boost the GBA's low-volume and give it a louder and more robust sound. At maximum volume, this beast provides up to an astounding 24 dB gain. When combined with our premium 1W speaker, this amp allows you to enjoy unprecedentedly powerful sound from your GBA.
Features
Hi-Fi Class-D amplifier that gives up to 24 dB gain
Results in less distortion and better noise filtering than similar products
Delivers a significantly louder, more robust sound
When used within the Game Boy Advance's original volume range, improves battery efficiency compared to unmodded units
Simple installation process—no need to modify existing chips or pins
Speaker kit includes a high-quality, high-efficiency speaker with better low and high frequency response  
Specs
Dimension: 12.8 mm x 16.7 mm x 2.7 mm
Input Voltage: 2.7 V to 5.5 V
Recommended Input Voltage: 3.3 V
Termination: Solder Pads
Weight: 1.7 grams
Amplifier Class: Class-D
Closed Loop Gain: 24 dB
Efficiency: ~87%
Recommend Speaker Impedance: 8 Ohm
Max Operating Temperature:

85°C

Corner Frequency of High-Pass Filter: 1882 Hz
Number of Wires for Installation: 6
Documentation
A step-by-step

 

installation guide is available
This Does Not Compute has reviewed this product. The video includes the installation process, so give it a watch if you prefer video tutorials!
Included
Board Only
1 x Retro Modding's Game Boy Advance Audio Amplifier
Board  + Installation Kit
1 x Retro Modding's Game Boy Advance Audio Amplifier



1 x Wiring kit


1 x Piece of heat shrink tubing




1 x Piece of double-sided tape




1 x Piece of double-sided foam tape



Notes
This is an in-house product. For troubleshooting or support queries, please reach out to us directly on 

Facebook

 

or by email at 

support@retromodding.com
We recommend using this product with 

our 

premium 1W speaker

Please keep in mind that the GBA always puts out a low-level hissing or high-pitch noise due to the GBA's hardware

. An amplifier will make this noise louder. If you're sensitive to these kinds of noises, an amplifier is not for you

Please note that this product may not perform as expected when batteries are low

This product is intended for use in the Game Boy Advance, but it can be installed in the Game Boy Color since you can safely supply 5 V, despite what's written on the board. Follow the instructions in our GBA guide but solder the 3.3 V wire to pin 7 (top), ground to pin 4 (bottom), DT to pin 5 of the headphone jack, and SP-In to the speaker in on the PCB. Please note that we currently do not offer additional instructions or support for how to install this product in any console other than the Game Boy Advance. Please note, while we have received feedback from our customers regarding successful installation of the audio amplifier in the Game Boy Color, this installation will be performed at your own risk. 
Change Log
2020-02-17: Removed speakers from product variants. Now only offered as PCB and Kit.