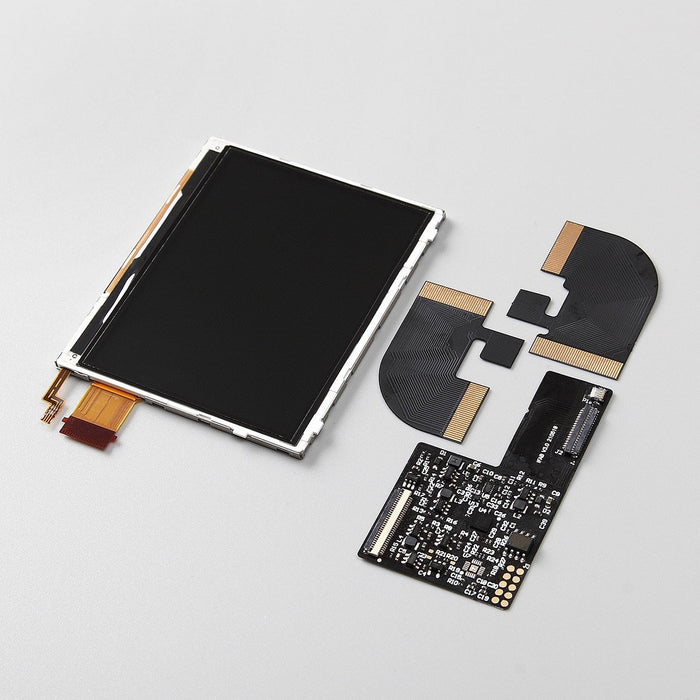 ITA TFT Backlight LCD for Game Boy Advance
Sold out
Original price
$58.99 USD
-
Original price
$58.99 USD
Looking to modernize the screen on your GBA, while still maintaining something of a retro aesthetic? This ITA TFT Backlight LCD uses the bottom screen of the Nintendo DSI in combination with a custom ribbon cable to make implanting this screen into your Game Boy Advance as easy as possible!

Features
Similar to AGS-101 display, but with improved colours and no ghosting

Same viewing area as the OEM displays, making it compatible with stock and 101 screen lenses
Touch brightness controller
Position adjust feature (hold select + L + R for three seconds to activate, and us L + R to reposition display vertically; hold inputs again to use L + R to reposition display horizontally)
Included

1 x TFT LCD
1 x Main ribbon
1 x 32 pin ribbon

1 x 40 pin ribbon
3 x wires
Notes
This is an aftermarket product and may not feel identical to its genuine counterpart
On 40 pin boards, you will need to remove the C54 capacitor
Some soldering and trimming of the shell is required to install this mod
There are three plastic tabs along the edge of the LCD, which must be trimmed of prior to installation
Warning
We strongly recommend testing the display before installing it in your Game Boy Advance. Please follow our

 

Display

 

Testing

 

Guide to confirm the kit is working before the adhesive is secured, the display protection sheet removed, or

 

any non-critical soldering

 

to the ribbon or driver PCB.

 

We are unable to accept returns or replacements on kits that have been installed in a console.

 

Individual replacement parts may be available in the "Included" section above.

The ribbon is very fragile, be sure to handle it carefully to avoid damage.

Too much pressure can permanently damage the display, do not force the shell closed around the LCD. Ensure the shell is properly trimmed for the display before attempting to install it.