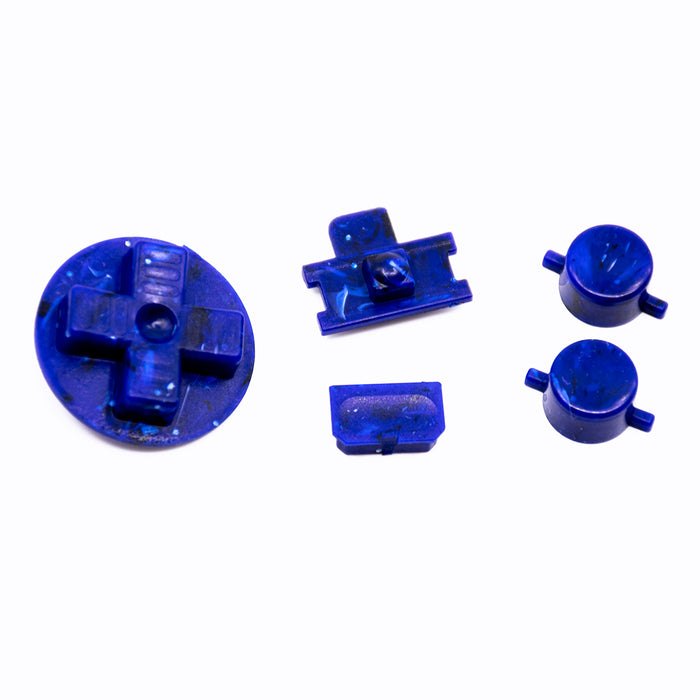 Neptune Buttons for Game Boy
Original price
$4.19 USD
-
Original price
$5.24 USD
These marbled DMG buttons are a first of their kind, and due to how the plastic is cast to achieve this marbling effect, every Neptune button set has its own unique pattern.
The Neptune name has been chosen by the retro modding community during the Instagram "Space vs Ocean" contest held on January 2021! 
Our unique, in-house Game Boy replacement buttons are cast using high-precision machinery. These quality buttons closely reproduce the style and feeling of the original hardware, so you can enjoy the same great experiences in a brand new color. 
Features
Durable ABS (acrylonitrile butadiene styrene) material
High-quality, responsive buttons that play better than typical budget replacement parts
Compatible with DMG and Play It Loud Game Boy handhelds as well as NES and SNES controllers (see warnings) 
Included
DMG-style:
1 x DMG D-pad
2 x DMG A/B buttons
1 x DMG power switch cover
1 x DMG extension (link) port cover
NES-style:
1 x NES-style D-pad
2 x NES-style A/B buttons
Notes
Colors may vary from what you see on your display
This is an aftermarket product and may not feel identical to its genuine counterpart
Warning
The Game Boy's D-pad is much smaller than that of the NES so, while it works in a NES controller, the fit will be loose
The Game Boy's D-pad will not fit in a SNES controller, but the A and B buttons will
The NES Style D-pad is designed to fit in a NES controller and may feel a bit tight in the Game Boy