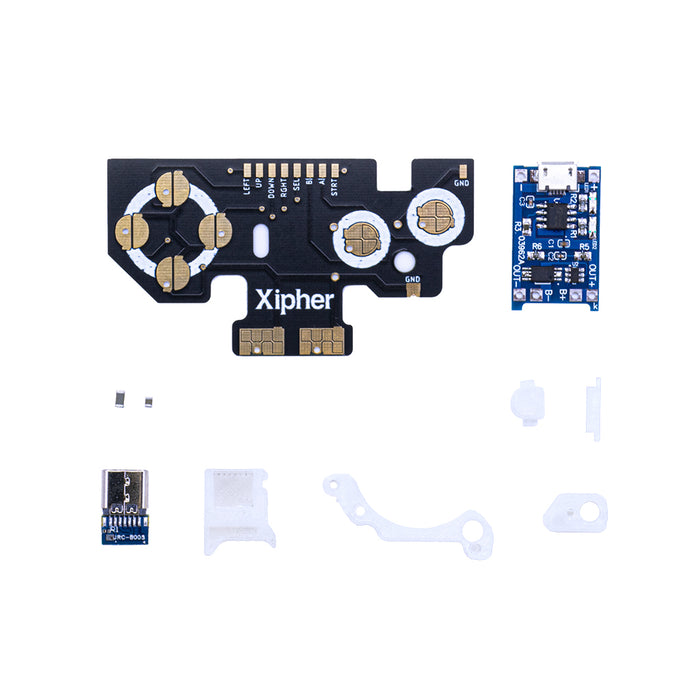 Xipher's Game Boy Color to Pocket Conversion Kit
Sold out
Original price
$32.99 USD
-
Original price
$32.99 USD
Are you looking to play your favourite Game Boy Color games, while enjoying the form factor of the Game Boy Pocket? Maybe gain a rechargeable USB-C battery out of it? If so, this kit will help you get there! Containing a PCB designed by Xipher, as well as a few helpful extras, this kit will get you started on what you need for your Game Boy Color Pocket build. 
PLEASE NOTE: This is an advanced DIY project, and isn't recommended for beginners. We highly recommend you carefully read through the entire product page and review the videos linked in the Documentation section, to judge whether or not this project is for you before purchase. Be aware, we cannot be held responsible for any damage to your console that occurs when undertaking this project. 
Features
PCB designed by Xipher allowing the Game Boy Color pcb to fit into a Game Boy Pocket shell

Adds rechargeable battery (battery sold separately) with USB-C charging
Also includes a number of necessary parts to help get you started on the project
Documentation
Xipher has uploaded a number of tutorial videos to help with this project, which we recommend watching: part one, part two, part three.
Downloads

This kit includes 3D-printed port covers, also designed by Xipher. The file to print your own can be found on Xipher's Thingiverse page here. As well, our in-house 3D-printed screw posts are available on our own Thingiverse page here.

Included
1 x Xipher's Color to Pocket PCB
2 x Capacitors (C35 and C38)
1 x Battery Power Manager
1 x USB-C Port
1 x 3D-printed USB-C Housing Support
2 x 3D-printed screw posts
2 x 3D-printed port covers, designed by Xipher
Notes
Colors may vary from what you see on your display
This is an aftermarket product and may not feel identical to its genuine counterpart
While this kit contains a number of parts to help you get started with this project, it does not contain everything needed; notably, while the USB-C port and a 3D-printed housing support are provided, a battery is not included in this kit due to shipping restrictions. We recommend either the 1000mAh 50mm x 20mm x 10mm battery or the 850mAh 45mm x 20mm x 8mm battery, both available here. Please take note of the shipping restrictions listed in the Notes section on that page.