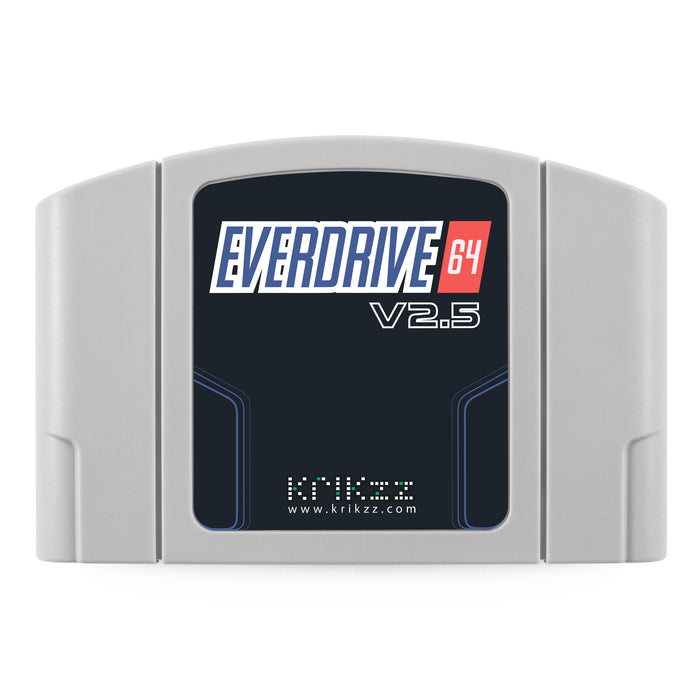 Krikzz's EverDrive-64 V2.55
Sold out
Original price
$120.74 USD
-
Original price
$120.74 USD
$120.74 USD
-
$120.74 USD
Current price
$120.74 USD
The Everdrive-64 V2.5 has received an upgrade in the form of the EverDrive-64 V3. With 256 KB dedicated save memory, a real time clock, and the ability to save without reset, you can now enjoy your favorite N64 games and ROM hacks like never before. 
Return to the best retro titles the Nintendo 64 has to offer with this reliable, easy-to-use flashcart.
The cartridge uses a custom made multi-region shell that fits North American (NTSC), European (PAL), and Japanese (NTSC) consoles.
Features
Close to 100% compatibility with the N64's library

Built-in UltraCIC II lockout chip supports PAL and NTSC systems, including 

CIC-6105 protected games
64 MB(512 mbits) SDRAM for ROM data (max ROM size 64 MB)

Supports SD and SDHC cards

Supports FAT16 and FAT32 (unlimited partition size for FAT32)

SD to SDRAM transfer speed up to 23 MB/s

Includes emulation features
Supports Game Pak saves (SRAM, SRAM 128 KB, EEPROM 16 KB, EEPROM 4 KB, FlashRAM)

Compatible with GameShark cheats

Compatible with IPS and APS patches

No extra software needed
Documentation
Included
Notes