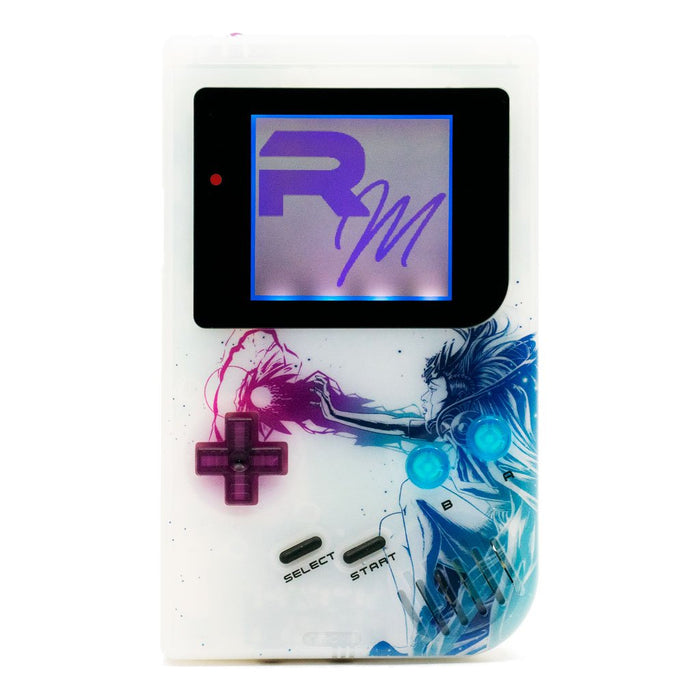 Danimal Cannon Lunaria DIY Kit for Game Boy
Original price
$62.99 USD
-
Original price
$62.99 USD
Pay homage to Danimal Cannon's chiptune album Lunaria with this full DMG kit! Containing everything needed to give your Game Boy a fresh Danimal Cannon inspired look, complete with vibrant white backlight, this kit also includes a digital download of Lunaria to listen to while you play. 

This kit is a limited release. Only a few are available, so get your before it's gone! 
Features
Machine cast DMG shell with a lightly textured finish to reproduce the feel of the original housing
High-quality Lunaria-themed UV prints on front and back of the shell

Mixed color buttons and start-select silicone pad, that play better than typical budget replacement parts
Brilliantly bright white Density backlight V2 that completely preserves the power LED and housing
Compact bivert board to increase the perceived contrast of your backlit console with simple, wireless installation and an optimized circuit for minimal signal loss
Digital download code for the Danimal Cannon album, Lunaria


Included
1 x custom UV printed front and back Game Boy shell
1 x black Game Boy glass screen lens - OEM (64 mm) view area
1 x clear blue Game Boy A and B buttons
1 x clear purple Game Boy d-pad
1 x black Game Boy start-select silicone pad
1 x White - Density v2 Game Boy backlight
1 x Game Boy bivert board v2
1 x Danimal Cannon - Lunaria digital download code
Notes
Colors may vary from what you see on your display
This is an aftermarket product and may not feel identical to its genuine counterpart
Upon purchase, your album download code will be sent to you via email. Please allow up to 48 hours for this to be processed. 


Hydro-alcoholic gels (such as hand sanitizer) and their residue can damage the print if they come in contact. Please pay particular attention to this when using UV-printed shells.