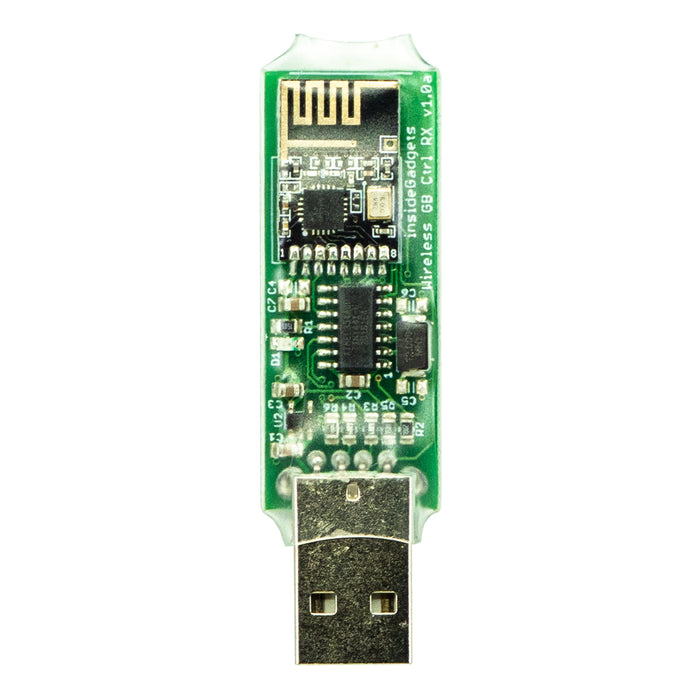 Inside Gadgets Wireless Controller - Receivers
Original price
$22.04 USD
-
Original price
$27.99 USD
This wireless Gameboy controller allows you to use your favourite retro console as a wireless controller. Play games on your PC, laptop, RPi, and more, or use it to play games on a NES, Super Nintendo, N64, Gamecube or Wii wirelessly using any supported Gameboy of your choice.
Please note: this product is only the receiver; you will also need a transmitter to pair it with, which is available here for DMG, or here for GBA. 
Features
Allows your handheld console to be used with a wireless controller when paired with a transmitter
Available for a wide variety of consoles, as well as general USB

Options
USB-A / USB-C: Compatible with Windows, Linux, Raspberry Pi, etc. 
NES: Compatible with NES
SNES: Compatible with SNES
Nintendo 64: Compatible with N64
Gamecube: Compatible with Gamecube and Wii
WiiMote Expansion Port: Compatible with Wii, NES/SNES mini
Documentation
Please see the "How to Use" section here.
Downloads
Any downloads or firmware updates will be available in the "Download" section here.
Included
1 x Receiver, in a style of your choice
Notes
This product requires a transmitter in order to function
Please note that this is not a Bluetooth device
Colors may vary from what you see on your display
This is an aftermarket product and may not feel identical to its genuine counterpart