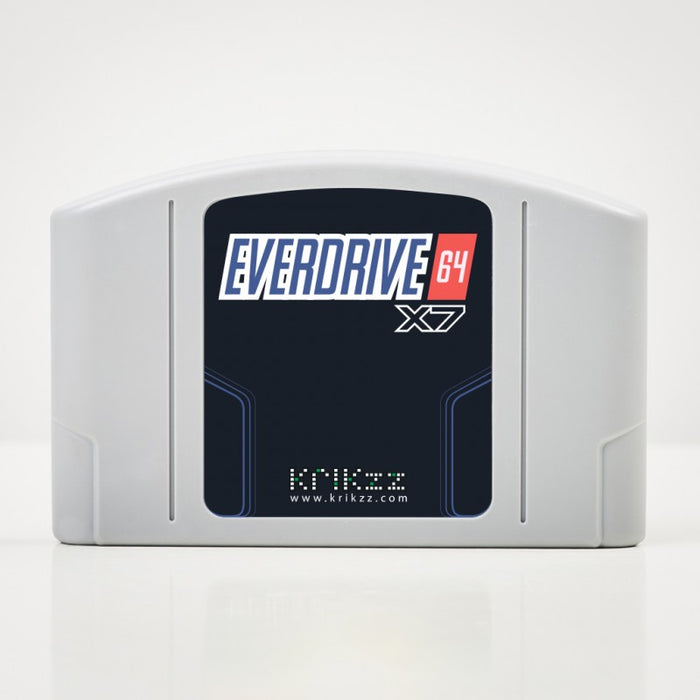 Krikzz's EverDrive-64 X7
Sold out
Original price
$247.99 USD
-
Original price
$247.99 USD
$247.99 USD
-
$247.99 USD
Current price
$247.99 USD
Enjoy your favorite Nintendo 64 games on one convenient, SD-compatible flash cartridge. The EverDrive-64 V3 adds 256 KB dedicated save memory, a real time clock, the ability to save without reset, and a USB port for developers, so you can now enjoy your favorite N64 games and ROM hacks like never before.
The cartridge uses a custom made multi-region shell that fits North American (NTSC), European (PAL), and Japanese (NTSC) consoles.
Features
Supports both PAL and NTSC systems.
UltraCIC III with region auto detection.
RTC support.
Micro SD and SDHC cards are supported.
Fast loading. Speed up to 23 Mbyte/s.
Supports .nes ROM format via built-in emulator.
Gamepak saves support (SRAM, SRAM128Kbyte, EEPROM16k, EEPROM4k, FlashRam)
GameShark cheats.
IPS/APS patches.
USB port for development.
Documentation
Included
Notes