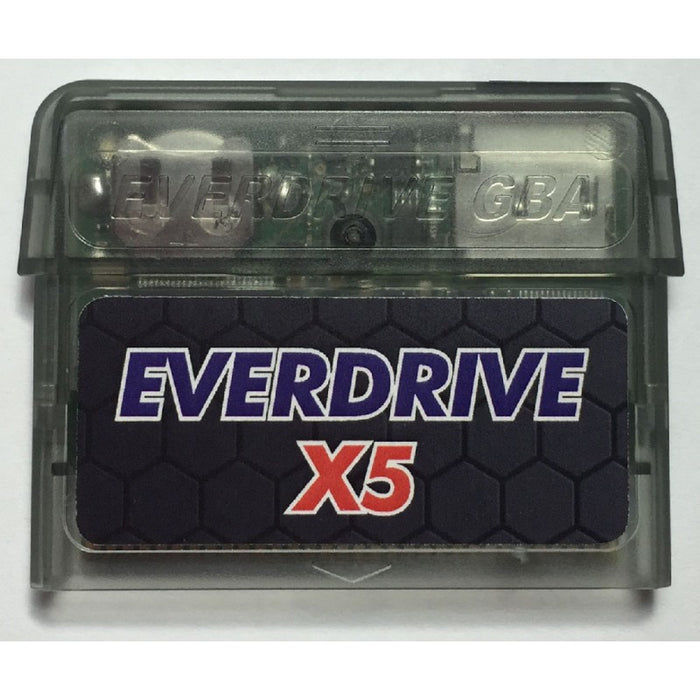 Krikzz's EverDrive-GBA X5
Sold out
Original price
$110.24 USD
-
Original price
$110.24 USD
$110.24 USD
-
$110.24 USD
Current price
$110.24 USD
Enjoy your favorite Game Boy Advance games and ROM hacks on the go with one convenient, SD-compatible flash cartridge. Reliable and easy to use, it's never been easier to return to the best retro titles the GBA has to offer.
Features
Close to 100% compatibility with the GBA's library
Supports all save types

—

no ROM patching required
Fast loading

—most games load within 1-2 seconds

256 mbits PSRAM (32 MB) ROM memory
1 mbit SRAM (128 KB) save memory
Real-time clock support
Low power consumption
SD, SDHC and SDXC compatible
Tested with micro-SD cards up to 64 GB
FAT 32 compatible
Works with the Game Boy Player, the Super Retro Advance adapter, and other GBA accessories
Compatible with Game Boy, Game Boy Color, and NES games (through emulation mode)
Documentation
Included
Notes
SD card

 

sold separately
This product is not compatible with the GBAccelerator at 1.5x, 1.75x, and 0.85x speeds. This product can be used in consoles that have had the GBAccelerator installed, provided that the speed is kept at 1x.