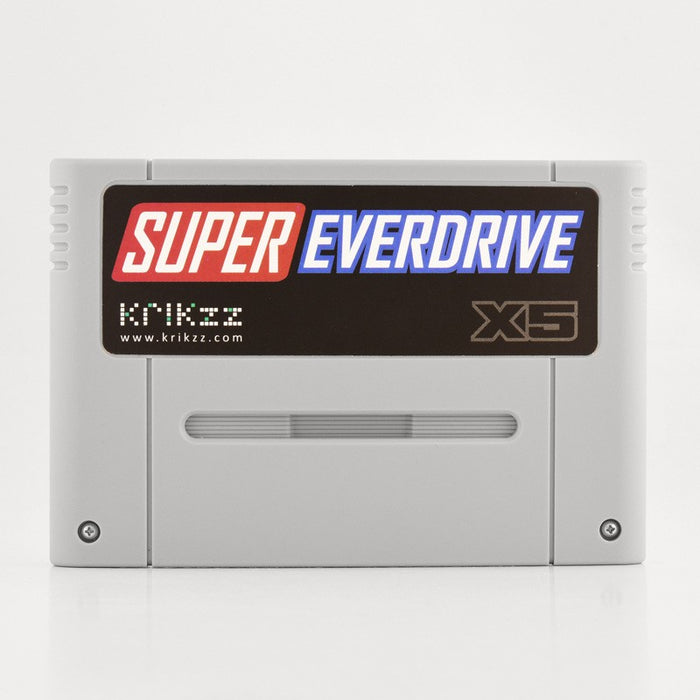 Krikzz's Super EverDrive X5
Sold out
Original price
$99.74 USD
-
Original price
$99.74 USD
Enjoy your favorite SNES games and ROM hacks on one convenient, SD-compatible flash cartridge. Reliable and easy to use, it's never been easier to return to the best retro titles the Super Famicom and Super Nintendo Entertainment System have to offer.
The cartridge uses a custom made multi-region shell that fits North American (NTSC), European (PAL), and Japanese (NTSC) consoles.
Features
Max. ROM size up to 7.5MByte

Max. Save RAM sizeo up to 128KByte

Instant Loading

SuperKey. This function eliminate region locks

Improved EverDrive menu (compared to previous super-ed generations)

SDHC/SDXC MicroSD cards support up to 128GB

*

GameGenie cheat codes

Low power consumption

Hi quality 4-layer PCB

OS supports up to 1000 files per folder

Supported with any SNES/SFC16 system
*Cards bigger than 32GB require custom formatting tools.
Cartridge uses custom made multi region shell. It fits in both american and euro/jap systems.
Documentation
Included
Notes