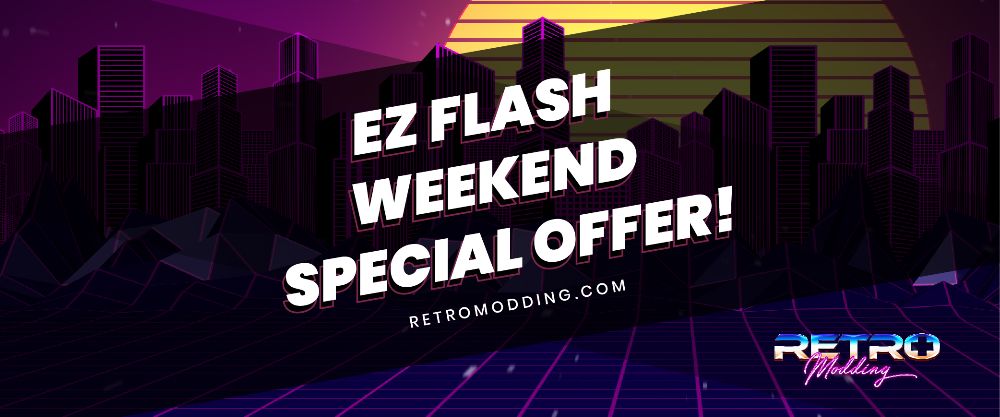 EZ Flash weekend special offer!
25% off
It's time to play!
Don't have an Analogue Pocket?
Just use your Game Boy with a Flash cart to play your childhood games or some new Incube8 Games licenses!

Check out our weekend's offers:
25% off over the EZ Flash line of products (Omega, Definitive Edition, and Junior) 
25% off Freeplay Tech's Flash Masta for your Neo Geo Pocket
25% off on all our SD cards

Don't have a cart reader? Well, we also extended the sale to all the Inside Gadget cart readers:
25% off on all GBxCarts and enclosures! 
This offers starts Friday, the 11th at 5 pm and ends Sunday, the 13th, at 11:59 p.m. ET! 

Have a look at the products on sale ⬇️
EZ-Flash Omega
(GBA)
$59.99
$44.99
View
EZ-Flash Junior
(DMG, MGB, GBC)
$60.89
$45.67
View
EZ-Flash - Definitive Edition
(GBA)
$104.99
$78.74
View
Neo Pocket Flash Masta
(NGP, NGPC)
$62.99
$47.24
View

GBxCart RW Pro
(available in 9 colors)
(GBA)
$49.45
$37.09
View
GBxCart RW - Enclosure
$6.99 - $11.97
$5.24 - $8.98
View
Micro SD card
16GB - 256GB
(GBA)
$10.49 - $73.49
$7.86 - $55.11
View
Until next time,
The Retro Modding Team 💜