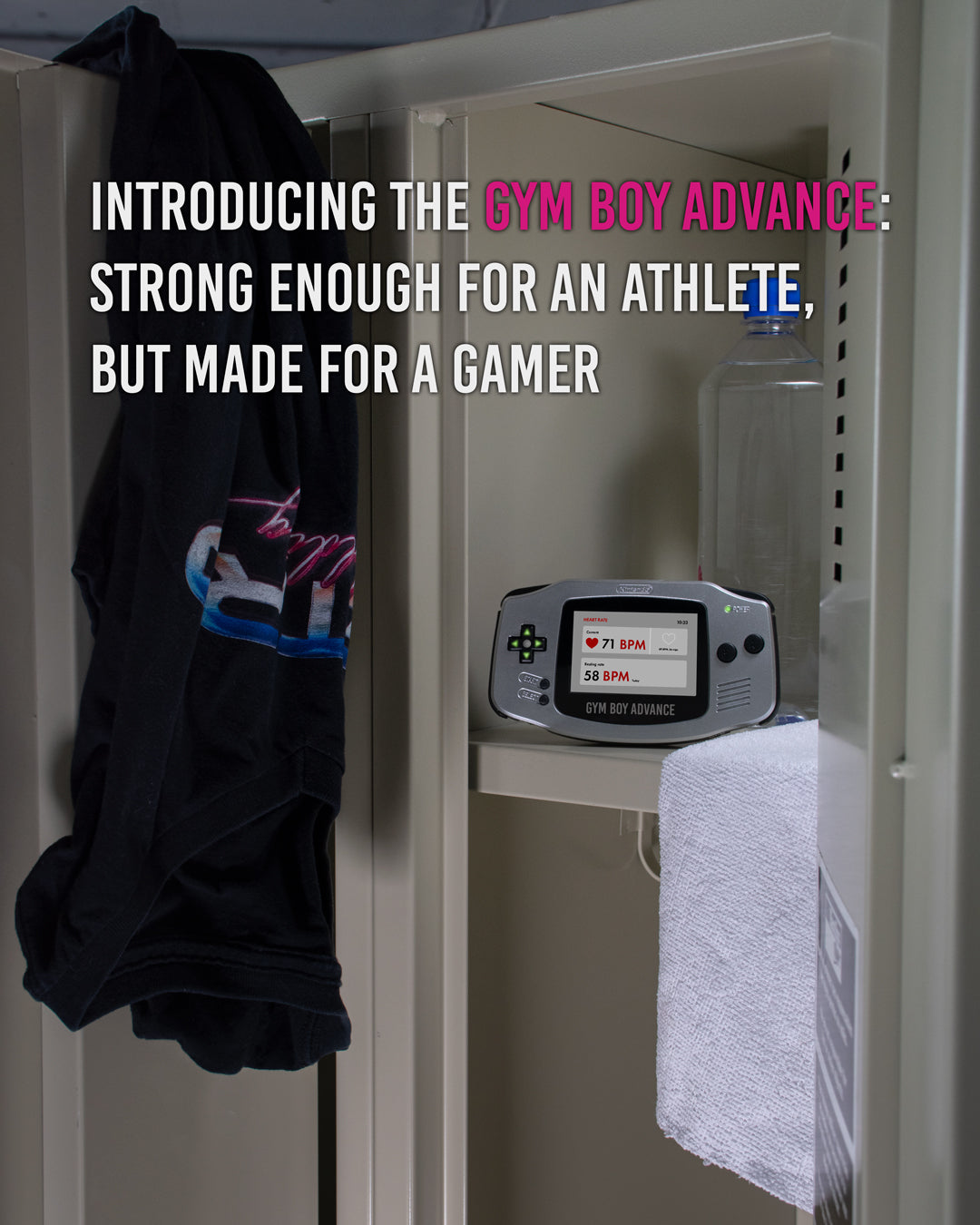 Introducing the Gym Boy Advance!
🇬🇧 Our R&D department regularly conducts surveys within the gaming community, to get a sense of what new products we ought to be developing. While the topics typically revolve around gaming, we have been experimenting by including more lifestyle questions, and let's just say the data we've collected is alarming.

When asked to estimate the distance walked in an average week, 74% of respondents claimed they "prefer to fast travel". We found asking people to measure their activity levels from sedentary to highly active produced a very narrow range of data; so to get better insight, we needed to adjust the scale to measure from "lining up to buy the game" to "sitting down to play the game".  An innocuous question on burpees devolved into a distressingly violent argument about whether it was a Gen 2 or Gen 3 starter.

We couldn't help but feel a little responsible. Did our selling of world-class mods for retro handhelds promote an inactive lifestyle? With this in mind we got to work, and after months of development, we are excited to present our newest mod. Forged in guilt: the GYM BOY ADVANCE.

An entire home gym, condensed into a form factor you know and love! Including a heart rate monitor built into the D-pad, a link cable / jump rope hybrid, a set of lifting cartridges ranging in weight from 4KB to 16KB, a special pedometer cartridge, and a built-in deodorant stick for after the workout. The days of feeling ashamed for sweating while playing Game Boy are long behind you, thanks to the Gym Boy Advance!

Please note, Retro Modding is not liable for any injury or death resulting from use of the Gym Boy Advance. Consult your physician prior to purchase. 

🇫🇷 Notre département de R&D mène régulièrement des enquêtes au sein de la communauté des joueurs, afin d'avoir une idée des nouveaux produits que nous devrions développer. Bien que les sujets tournent généralement autour du jeu video, nous avons expérimenté en incluant des questions sur le mode de vie, et disons que les données que nous avons recueillies sont alarmantes!

Lorsqu'on leur a demandé d'estimer leur distance parcourue en une semaine, 74 % des personnes interrogées ont déclaré qu'elles "préféraient la téléportation". Nous avons constaté que le fait de demander aux gens de mesurer leur niveau d'activité, de sédentaire à très actif, produisait un éventail très étroit de données ; pour obtenir un meilleur aperçu, nous avons donc dû ajuster l'échelle pour mesurer le niveau d'activité de "Faire la queue pour acheter Elden Ring" à "Je m'installe confortablement pour jouer". Dans le sondage, une question anodine sur les burpees s'est transformée en un débat houleux sur la question de savoir s'il s'agissait d'un starter Gen 2 ou Gen 3.

Nous ne pouvions pas nous empêcher de nous sentir un peu responsables. Est-ce que notre activité de vente de mods pour les consoles rétro encouragerait un style de vie inactif ? C'est dans cet esprit que nous nous sommes mis au travail, et après des mois de développement, nous sommes heureux de vous présenter notre tout nouveau mod. Forgé dans la culpabilité : le GYM BOY ADVANCE.

Une salle de gym à domicile complète, condensée dans une forme que vous connaissez et aimez ! Comprenant un capteur de fréquence cardiaque intégré au D-pad, un câble link corde à sauter, un ensemble de cartouches haltères dont le poids varie de 4KB à 16KB, une cartouche podomètre, et un déodorant intégré pour l'après-séance d'entraînement. Les jours où vous aviez honte de transpirer en jouant à la Game Boy sont loin derrière vous, grâce au Gym Boy Advance !

Veuillez noter que Retro Modding n'est pas responsable de toute blessure ou décès résultant de l'utilisation du Gym Boy Advance. Consultez votre médecin avant l'achat.