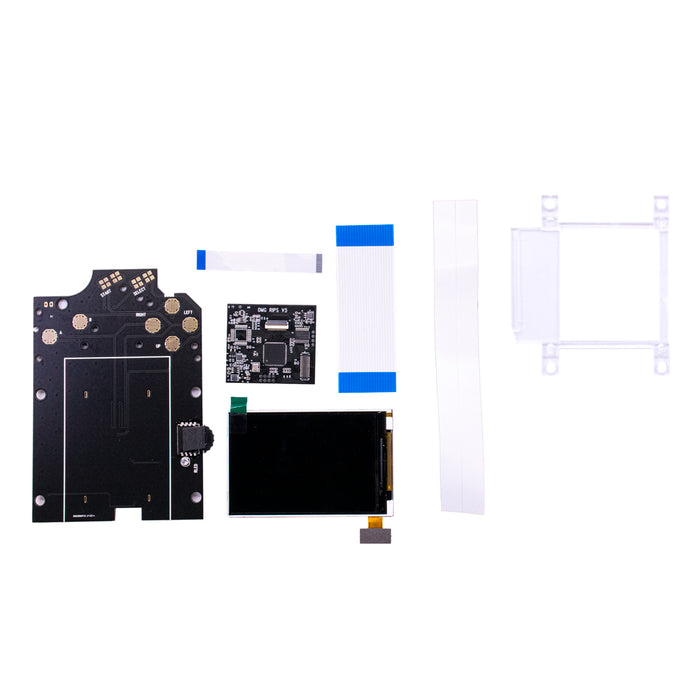 IPS LCD (RIPS V5) for Game Boy
Sold out
Original price
$60.99 USD
-
Original price
$60.99 USD
If you're looking for a crisp, full-sized backlit LCD for your Game Boy, look no further than this IPS LCD kit. This kit contains everything required to give your old DMG a bright new display. In addition, the viewing area is the same size as the stock display, meaning no special lens is required!

The DIY kit will provide you with all that you need to install this LCD, and will require some soldering for the Game Boy speaker(not included). 
If you're looking to go all the way with refreshing the look of your old Game Boy, check out our shells, buttons, and glass lenses! 
Features
LCD replacement for original Game Boy
Includes replacement front PCB with button contacts
Minor soldering is required (two wires)
Same viewing area as the original display
On screen display to control settings
Brightness control
Multiple color modes to choose from
"Color adjust" option to allow for further customization of color palette
Included
1 x IPS LCD
1 x Front PCB

1 x Video Driver PCB
1 x Front PCB Ribbon Cable
1 x Video Driver PCB Ribbon Cable
1 x Bracket
1 x Adhesive
Documentation
The kit includes a bracket, but we also have our own in-house "upgraded"

 

b

racket available here
If you'd like to 3D print your own IPS LCD centering bracket, our .STL file is open source and available on Thingiverse
Notes
This is an aftermarket product and may not feel identical to its genuine counterpart
Some minor shell modification is required, involving cutting the screw posts on the interior front of the shell. This trimming can be accomplished with a pair of side cutters.
On-screen battery display is a rough estimate, and may not be accurate
Warning
We strongly recommend testing the display before installing it in your console. Please follow our

 

Display

 

Testing

 

Guide to confirm the kit is working before the adhesive is secured, the display protection sheet removed, or

 

any non-critical soldering

 

to the ribbon or driver PCB.

 

We are unable to accept returns or replacements on kits that have been installed in a console.

 

Individual replacement parts may be available in the "Included" section above.

The ribbon is very fragile, be sure to handle it carefully to avoid damage.

Too much pressure can permanently damage the display, do not force the shell closed around the LCD. Ensure the shell is properly trimmed for the display before attempting to install it.