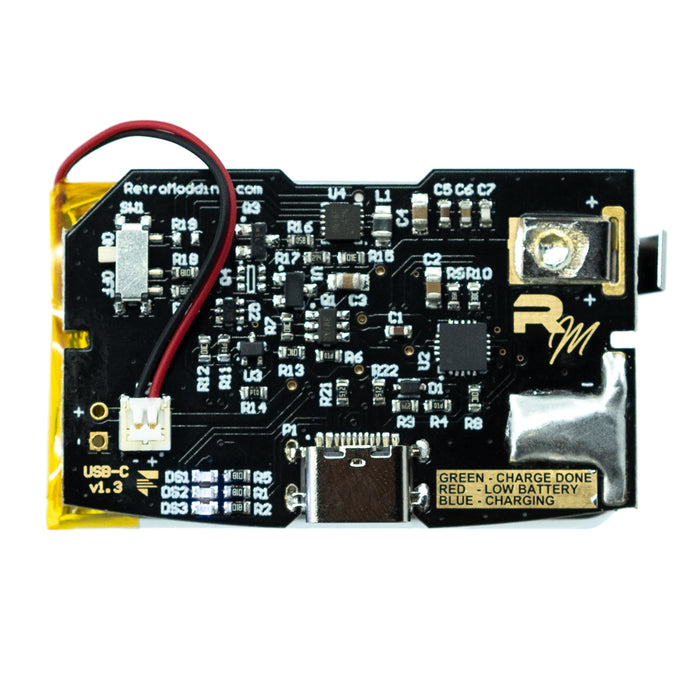 USB-C Rechargeable Battery Pack for Game Boy Advance
Sold out
Original price
$47.24 USD
-
Original price
$47.24 USD
This custom, high-quality, long-lasting rechargeable battery pack is designed especially for the Game Boy Advance.
The product consists of a board and an attached, rechargeable LiPo battery. The unit fits comfortably in the console's battery compartment with minimal trimming. It charges via USB-C without you having to turn off your console.

The NEW and revised USB-C offers 1700mAh of capacity, thanks to an optimized PCB layout allowing a 20% gain from our previous v1.2 at 1400mAh
Please read the entire product description carefully before purchasing this product. Remember to turn the battery pack on before powering on your console. 
Also available in Micro-USB here.
Features
v1.3 and above offers a 20% capacity increase, now 1700mAh!
Provides over 22 hours of battery life on an unmodded console and up to 11 hours on an IPS modded console
±5 hour charging time
Rechargeable via USB-C and works with most external phone chargers or battery pack chargers

 

(1 Amp / 2.1 Amp / 3 Amp). See notes for more informations.
Allows you to play while charging through USB-C (trimmed battery door recommended)
Includes built-in battery pack status LED indicator for

 

low battery

,

 

charging

,

 

charged

Includes innovative power regulator that activates the GBA's built-in

 

low battery LED when the rechargeable battery pack is low
Red light on battery pack lights up when voltage drops to low-power mode (5 minutes of play remaining) as a final warning to save your game or recharge the battery pack

Storage mode feature puts the battery in ultra low power mode when not in use for an extended period of time

Simple install

⁠ with minimal trimming required—no need to open the GBA shell

Easily removable from your GBA

Includes built in protection against reverse polarity, low-voltage, over-voltage, and short-circuits
Specs
Dimensions: 52.6 mm x 31.25 mm x 14.4 mm
Weight: 36 grams (6-gram PCB + 30-gram LiPo)
Typical Operating Output voltage: 3.0 V
Low-Battery Operating Output Voltage: 2.4 V
Battery Voltage when Fully Charged: 4.2 V
Battery Chemistry: LiPo 3.7 V single cell
Battery Cell Size: 1700 mAh
Power Converter Technology: High Efficiency Step-Down Converter
Switching Frequency: 4 MHz
Max Operating Temperature: 45

°C for charging

Power Save Mode: Yes
Short Circuit Protection: Yes 1amp
Charger Input: USB-C Plug
USB-C Voltage Input Range: 4.5 to 14.1 V
Recommended Charger USB-C Voltage: 5.1 V
Recommended Charger USB-C Wattage: >1 W (1 A at 5 V)
Termination Style: Spring Tabs and USB-C
Standard Charge Current: 500mA standard charge rate, up to ~750mA if compatible charge port detected

Standard Charge Time: ~5 hours
Standard Runtime: ~22 hours
LED Indicators: Green (charged), blue (charging), red (low)
Options
Documentation
An

 

installation guide is available to walk you through how to trim your shell for the rechargeable battery pack
Included
1 x 1700 mAh Game Boy Advance Rechargeable Battery Pack 
Any accessories selected above
Notes
This product page is filled-in with the best of our knowledge, feel free to raise any concerns you may have.
Battery packs ship with the switch set to OFF.

 

Please remember to turn the battery pack ON before powering on your console.
Our battery packs are produced in-house, meaning some production time is always involved. Each battery goes through a rigorous quality assurance process before shipping.
Parts of the console's battery compartment need to be trimmed in order for the battery pack to fit into the shell. We strongly recommend purchasing an aftermarket

 

Game Boy Advance shell

 

to avoid damaging your genuine shell.
These battery packs have been made with aftermarket shells in mind.
Battery cover does not need to be trimmed if you prefer to keep the console's original aesthetic, but this option requires removing the battery cover whenever you want to charge the battery pack. 
If, at any point, you want to return to using AA batteries, all you need to do is put the metal contact back in the housing and insert your AA batteries. Even though the shell was trimmed for the battery pack, the AA batteries will fit safely and will power on your console.
D

ue to restrictions imposed by USPS, batteries going to the United States can only be shipped via ground transportation, which may extend the time it takes for you to receive your order.

Please note that batteries are prohibited from being shipped into Germany. Orders for individual batteries and for custom consoles with this battery packs will be cancelled and refunded. Unfortunately, this situation is out of our control. We're sorry for any inconvenience this may cause.
Warning
This product is fragile and should be handled with care. It uses a rechargeable Lithium ion polymer (LiPo) battery and, as with all LiPo batteries, it can leak or explode if not handled properly. By purchasing this battery pack, you acknowledge that you take responsibility for how you treat this product.
Do not force the battery to fit in the Game Boy Advance battery compartment. Trim more plastic away from your shell until you guarantee a good fit.
Do not leave your battery pack unattended if it's close to a heat source
We recommend not removing and reinserting the battery pack more than you have to. Once you have installed it in your system, leave it there and charge it either by removing the battery door or by trimming the battery door to fit the charger. Repeated removal of the battery pack can cause premature wear on the outer foil, leading to potential hazards.
Change Log
2021-11-24: Updated product description for revised v2.1 model.
2020-09-04: Updated product description for revised v1.3 model, 1700mAh.
2020-08-24: Updated charge time of 2.5 hours that referred to previous 1000mAh model to 4.0 hours for the 1400mAh.